Event Navigation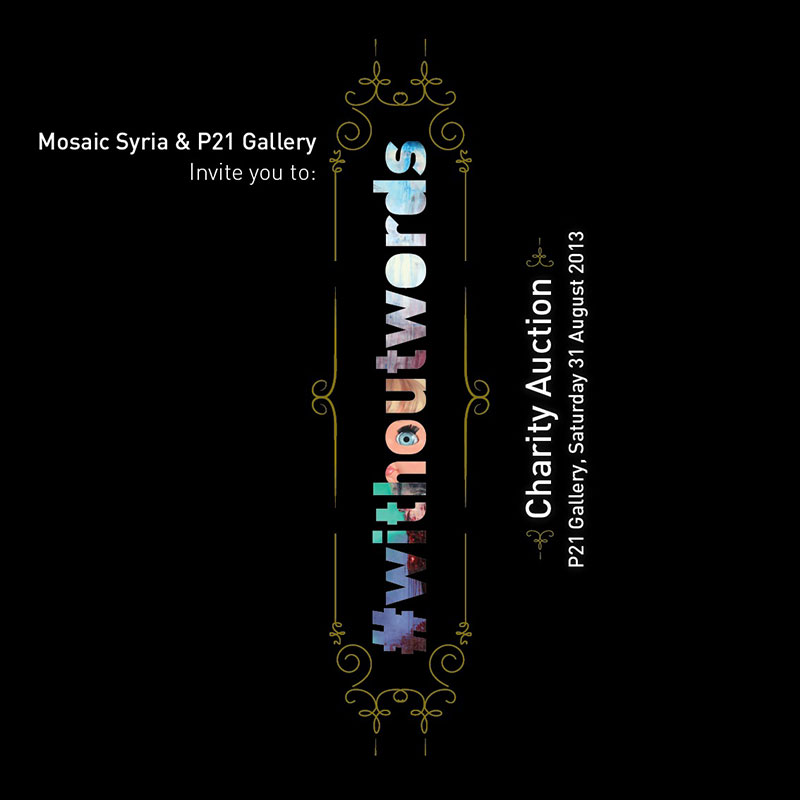 #withoutwords
EMERGING SYRIAN ARTISTS
Charity art auction
Saturday 31 August 6pm
P21 Gallery
21 Chalton Street, London NW1 1JD
Nearest tube stations Kings Cross or Euston
Mosaic Syria and P21 Gallery are pleased to invite you to the auction of the works exhibited in #withoutwords: Emerging Syrian Artists.
The funds raised will be shared between Mosaic Syria's aid relief work and the artist. Mosaic is looking to raise £24,000 to sponsor food parcels for internally displaced people in Syria. We are working with several local NGOs and other activist groups on the ground to make sure the food will be delivered to at least 800 families in the suburbs of Damascus.
Taking place at London's P21 Gallery and open to the public from June 27 until September 01, the exhibition showcases fine art and visual installations from emerging Syrian artists influenced by the desperate humanitarian situation in the country, and the struggle of their people for freedom. It features paintings, photography, metalwork, installations, political cartoons and sculptures. Some of the exhibited work has been smuggled out of Syria and is exhibited abroad for the first time. Other pieces have been collected from Lebanon or Jordan or made in the refugee camps of Turkey.
#withoutwords features, in the main, a younger generation of artists stationed across the Arab world and Europe, many of whom were trained in Syria and have since departed.
Works by: Ali Ferzat, Amjad Wardeh, Fadi Al Jabour, Hamid Sulaiman, Hazar Bakbachi-Henriot, Jalal Maghout, Khaled Abdulwahed, Lens Young Collective, Momtaz Shouaib, Philip Horani, Ramez Bakir, Ronak Ahmed, Samer Saen Eldahr, Tarek Tuma, Zaria Zardasht, and Anonymous
Mosaic Syria are a small international team based in London who provide urgent humanitarian assistance, such as shelter, medical aid, food and clothing, to those who need it most inside Syria and among the refugee communities in neighbouring countries. Since 2011, Mosaic has taken part in several cultural initiatives to help raise awareness of the plight of Syrians and raise funds for immediate relief. You can learn more about our humanitarian projects here: http://mosaicsyria.org/what-we-do
"Whether via photographs or abstract paintings, #withoutwords provides a platform to artists who don't have a free and safe space to display their art in Syria."
– Melody Patry, Index on Censorship
"Offers a sometimes harrowing glimpse into the lives of ordinary Syrians."
– David Batty, The Guardian
#withoutwords: Emerging Syrian Artists was curated by Tarek Tuma, Malu Halasa, Fadi Haddad, Inzajeano Latif, Bibiana Macedo.
The exhibition would not be able to take place without the kind support from Asfari Foundation and Takween.