Event Navigation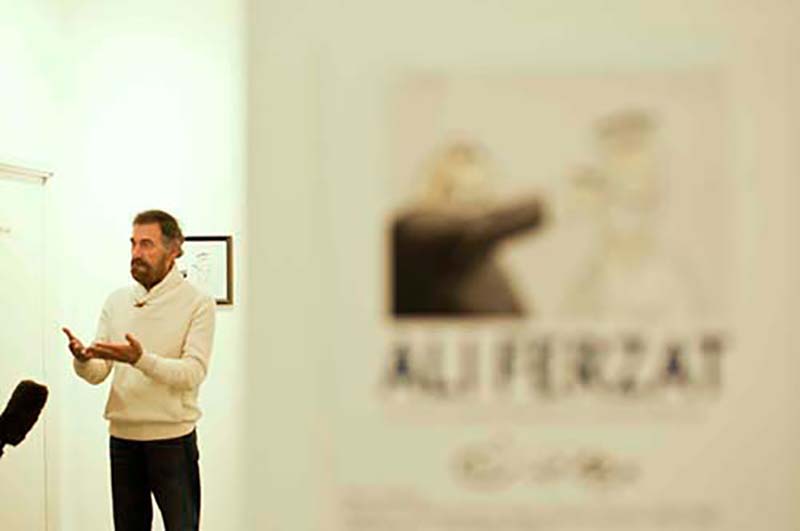 Mosaic Initiative for Syria exhibition of Ali Ferzat's cartoons co-sponsored by Amnesty International and Mica Gallery
Thank You Ali Farzat
"Mosaic Initiative for Syria" would like to thank and appreciate the global artist Ali Farzat, who fully conceded all the revenue achieved during his recently exhibition in London, as a contribution from him to promote and support humanitarian and relief aid for refugees and displaced Syrians inside Syria and in neighboring countries.
Mosaic would like also to salute Mr. Farzat's for his continued Support for the various activities of the Association artistic, cultural, and his participation in various events to support our glorious revolution, to reach our desired freedom.
Mosaic Initiative
Political cartoonist and 'icon of freedom in the Arab world' Ali Ferzat has spent decades satirizing Arab rulers and authorities in more than 15,000 caricatures, offering an acute visual commentary on the brutal practices of the Syrian Ba'ath regime.
In 2001, Ferzat launched the satirical newspaper, Al-Domari ("Lamp-lighter") which was forced to close by the Ba'ath authorities in 2003, and his cartoons have been banned in several Arab countries. For denouncing the corruption and abuses of Bashar Al-Assad's rule, heced tattacked in August by masked gunmen, who broke his hands as a warning.
In 2011, heced tawarded the Press Freedom Prize by Reporters Without Borders and Le Monde. He has been nominated for Index on Censorship's 2012taward for artists, filmmakers and writers whose work asserts artistic freedom and battles against repression and injustice.
Ali Ferzat
Mica Gallery
20th March to 29th March 2012
Monday to Friday: 10am – 6pm
Saturdays: 11am – 6pm (strictly by appointment only)
Mica Gallery, Studio 2, 259A Pavilion Road, Sloane Square, SW1X 0BP
Reel Syria
Reel Festivals returns for its fifth year with Reel Syria 2012, in association with Mosaic Initiative for Syria, supporting Syrian artists and showcasing Syrian culture to a UK audience.
Mosaic Initiative for Syria
is a not-for-profit organization contributing to the humanitarian relief effort in Syria and Syrian refugee camps in neighbouring countries. It is currently supported by Firefly International.
Reel Festivals is a Firefly International project. Firefly is a charity which breaks down barriers through shared creative and cultural dialogue – www.fireflyinternational.org.
Reel Syria ed tmade possible by the generous support of the British Council.