Event Navigation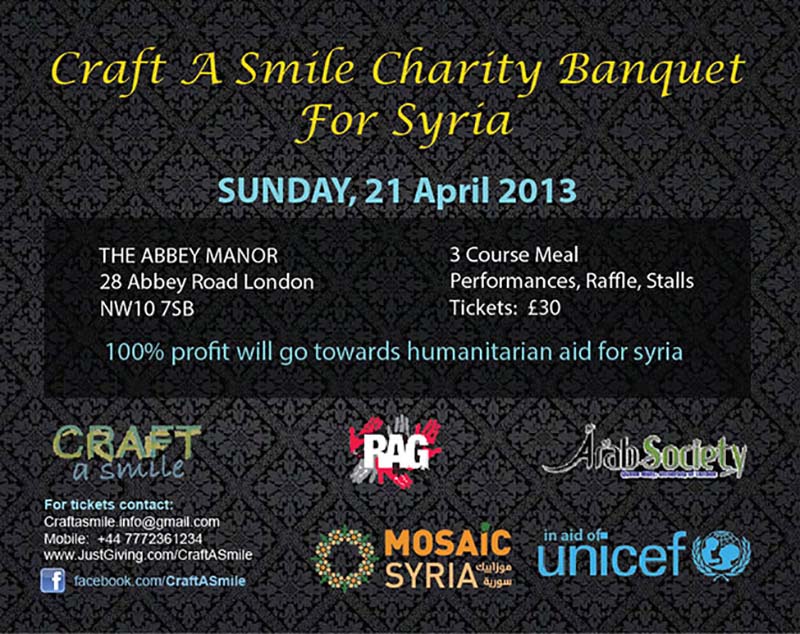 Come and support the people of Syria for a very special fundraising charity banquet at London's lush venue, Abbey Manor.
Mosaic Initiative in association with Craft a Smile and Unicef UK would like to invite you to an evening of fine food, music, dance and poetry in the beautiful setting of Abbey Manor, north west London.
The event is open to all and 100% of the funds raised will help the relief effort in Syria coordinated by London based charity, Mosaic Initiative.
The event costs just £30 and includes a three course Indian meal, speakers from Unicef UK, Craft a Smile & Mosaic alongside entertainment provided by an array of London based and International singers, bands and dancers including Moldovan songstress Isabelle Haile, a Nepalese ensemble, local poets and DJs playing a mix of arabic, UK and pop music.
There will also be a raffle, auction, a bazaar selling hand crafted textiles, bags, fashion items, soaps and for the adventurous even the option to get some decorative Henna.
Date: Sunday 21 April
Where: Abbey Manor, 28 Abbey Road, NW10 7SB, London , UK
Time: 19:00
Dress Code: Formal Attire
Parking: Free at venue
Cost: £30
Tickets Online: http://mosaicinitiative.org.uk/component/ohanah/charity-banquet
Payments can be made with Debit/Credit Card or via Paypal. A Just Giving site is currently being built so we can claim from UK government an extra 25%
Ticket & Event Info: [email protected] or 44 (0) 777 236 1234
Note: There are discounts for groups of 10 + so please contact us on the details above if you are planning on bringing a large group.
Here is a sneak preview of the menu for the foodies out there
Starters: Vegetarian Samosas, Aloo Papri Chaat,
 Potato Cutlers and Chicken Tikka
Mains: Palak Paneer, Lamb Korma and Vegetable Biryani
Desserts: Gajat Halwa and Vanillla Ice-Cream
 Tea
Facebook Event Page: http://www.facebook.com/events/552471471430179/
(please share with your friends and family!)
Can't attend but want to support? Mosaic welcomes all types of donations, aid and assistance, and provides all necessary guarantees which prove that such aid reaches those Syrian citizens most in need.
By spreading the word on this wonderful opportunity you are helping the people of Syria who are in desperate need of medical supplies and humanitarian aid.
Please see the website for more details about current projects and how your donations will directly benefit the people of Syria. mosaicinitiative.org.uk
See many of you soon,