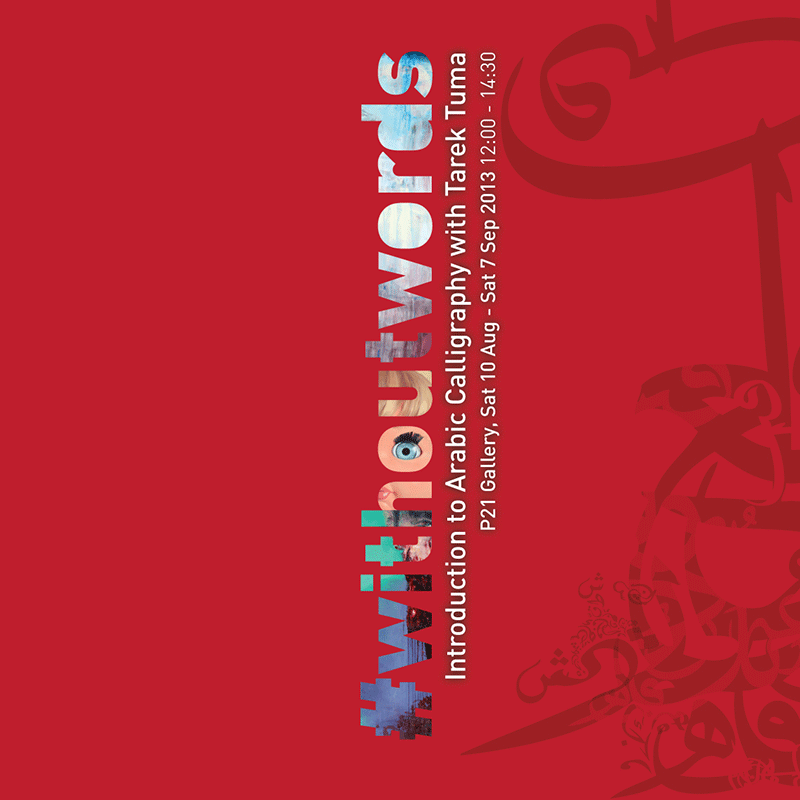 £120, 5 weeks, Saturdays (10 August – 7 September) – 12-2.30pm
Join us for this introductory course to Arabic calligraphy, run by #withoutwords artist and curator Tarek Tuma, and help us raise funds for our projects in Syria.
Starting from making the Qalam (pen), the course will run through Kufic (Geometric script ), Ruqaa (handwriting), Naskh (Quraanic script) , Farsi (Persian) , and Diwani (Ottoman), with a focus on Naskh.
About the tutor
Tarek Tuma is an artist and one of the curators of the exhibition #withoutwords: Emerging Syrian Artists, presented by Mosaic Initiative and P21 Gallery. Now based in London, Tarek's first solo exhibition Attempt took place in Damascus University in 2004. He has since been part of several group exhibitions in London, including the Pop-UP Space at BetterBankside (2010); Create-Master-Inspire at the Menier Gallery (2010); and Mairmade Court Group Exhibition (2011). #withoutwords is the first exhibition that he has curated.
  – Duration: 5 weeks, Saturdays (10 August – 7 September)
  – When: 12-2.30pm
  – Cost: £120
  – Where: P21 Gallery, 21 Chalton Street, London NW1 1JD
  – Level: beginners
  – Materials: each student is asked to bring paper, ink, a pencil, and a ruler
  – Facebook: https://www.facebook.com/events/349559201844618/
Max 15 places, so book soon!
Please note that by participating in this course, your money will be used to buy 3 survival kits, check details here: http://mosaicinitiative.org.uk/projects/survival-kits
All proceeds go to Mosaic Initiative, a UK-registered charity that works to provide urgent humanitarian assistance, such as shelter, medical aid, food and clothing, to those who need it most inside Syria and among the refugee communities in neighbouring countries.