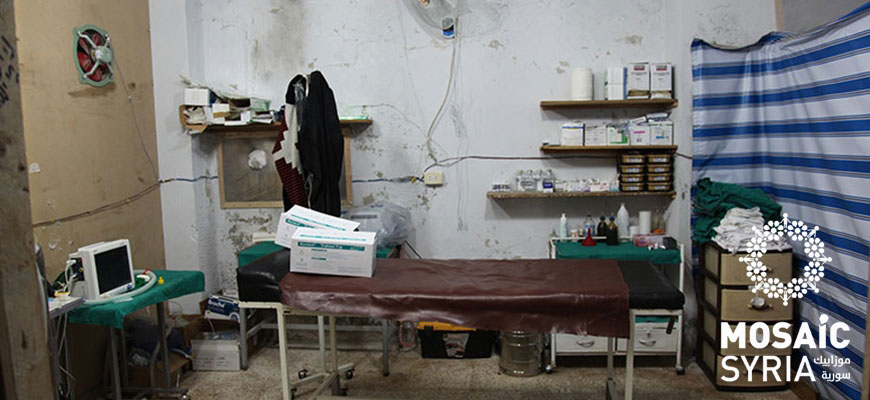 Mosaic Initiative is a logistic and financial sponsor of several field clinics in Lebanon and Turkey that run in order to treat injured Syrian refugees. Having established strong contacts with several field clinics managed to survey their sites. Mosaic has is focusing recent fundraising activities of the organisation on raising the money needed to keep these clinics running smoothly. Moreover, we are working on creating a Rota system, where we send doctors and health care professionals from various European countries to volunteer their services in Lebanon/Turkey for set periods of time. Finally, we will also support the clinics by ensuring continuous flow of medications and other medical equipment into their storage sites. Mosaic is also working hand in hand with the Medical Coordinate in Damascus. Mosaic considers it vital that these needs are met and that we continue to support medics in the critical work they do in saving lives and to act as a passage for your support to the Syrian people.
Turkey and Lebanon
During the past 15 months, over 22,000 Syrians have crossed the Turkish-Syrian border and 25,000 crossed the Lebanese-Syrian border. Many of the Syrian refugees arrive injured, suffering from the brutal attacks of the regime and require immediate medical care.
In Turkey field clinics have been established by volunteer doctors, usually rented apartments that have been converted into make-shift clinics. Similar field clinics exist in Lebanon.
The Turkish and Lebanese Governments provide basic primary care services, which include emergency surgeries and other urgent life saving procedures; however, the current Turkish hospitals do not have the capacity to provide longer term treatment and much needed rehabilitation service for the majority of these Syrian patients. The field clinics work to fill this need.
The make-shift clinics complement the current health care services that Syrian refugees receive from the hosting governments. The volunteer doctors spend their entire day and nights in these clinics, taking care of the patients, administering medications, changing their dressings, and providing them with other longer-term rehabilitation services.
Another and equally important role that these clinics play is to help humanitarian aid workers in storing and sending medical supplies and equipment into various cities and towns in Syria. These supplies are managed by the resident volunteer doctors who communicate regularly with their networks of non-violent Local Coordination Committees (LCCs) to help send these supplies to areas where they are needed the most.
Inside Syria (Damascus)
Syrian civilians have been seeking refuge not only in neighbouring countries (Lebanon and Turkey) over the last fifteen months but also in Syria's capital, Damascus. These fugitives are arriving with elderly people, young children and babies in a disorientated state and in need of stability. The most shocking and ironic cases are of hospitalised causalities. Causalities arrive at hospitals with head injuries, broken ligaments, injuries which can be treated. However, they are too often beat up by the Syrian regime, subjected to electrocution and detained. Some, are fortunate to escape alive, others leave in their shroud. This has lead to the establishment of the Medical Coordinate of Damascus, a group of volunteer medics working in clandestine to treat those injured as a result of the current humanitarian crisis. These volunteers have been risking their lives and livelihoods for months, on a daily basis, in order to save the threatened lives of others. Many have become victims and casualties themselves. Moreover, they have set up make-shift clinics and operating rooms in rented apartments, basements, schools across the country to meet the needs of the suffering. However, they are relying on the generosity of donations in order that they are able to carry out this impressive work. In order that they are able to continue their mission, the Medical Coordinate of Damascus requires a continuous supply of medical equipment, oxygen tanks, medication. Mosaic does all in its reach with the help and generosity of others to insure that these humanitarian supplies are supported. You have the power to save a life, to provide a volunteer doctor with the material required to make a difference, to make the option survival rather than death, relief rather than agony to an injured child, woman or man. Donate to make this difference today.