Event Navigation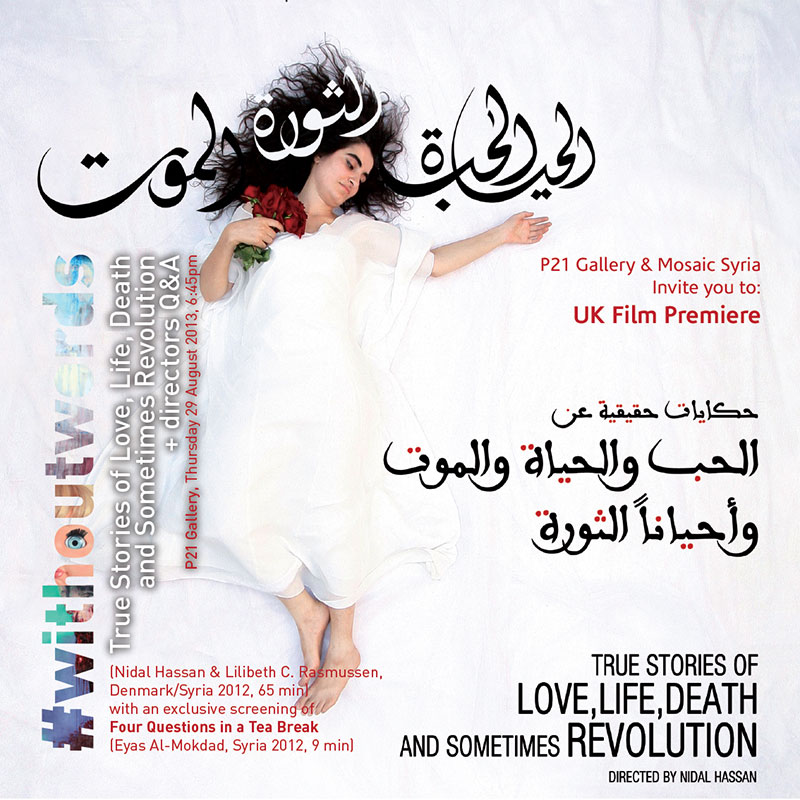 Mosaic Syria and P21 invite you to
UK FILM PREMIERE
True Stories of Love, Life, Death
and Sometimes Revolution
+ directors Q&A
Nidal Hassan & Lilibeth C. Rasmussen | Denmark/Syria 2012 | 65'
with an exclusive screening of Four Questions In a Tea Break


Thu 29 Aug, 6:45pm
P21 Gallery, 21 Chalton Street, London NW1 1JD
Entry: £7, please book your tickets in advance below
A film about Syrian women's personal battles for freedom turns into thefirst-hand account of an entire people's struggle as the uprising begins.
The Danish artist Lilibeth Cuenca arrived in Damascus in March 2011 to make a film with Nidal Hassan. The next day, the Syrian people's uprising broke out. The film the two had actually planned about Syrian women's struggle for a life in freedom suddenly turned into something completely different: a film about an entire people's struggle for freedom. The two quickly decided to travel around between Damascus, Sweida and Ein Al Arab to gather firsthand stories about love, life and death – three topics that suddenly became all the more important in the light of the revolution. But the production of the film itself became equally dramatic. After Lilibeth's return to Denmark, friends and acquaintances started disappearing, while Nidal continued to document the Syrian's fight against the regime – until he also disappeared for a longer period, and left behind him a void of fear for his life. But Nidal returned, and the film, which is commissioned by DOX:LAB, is now complete. A film which more than any other is made of blood, sweat and tears – and the hope for a better future.
Four Questions in a Tea Break (2012)
Eyas Al Mokdad | Syria 2012 | 9'
During a tea break, a Free Syrian Army fighter answers four questions that many may want to ask. Four questions that could answer many others.
The exhibition #withoutwords, presented by Mosaic Syria and P21 Gallery, showcases fine art and visual installations from emerging Syrian artists influenced by the desperate humanitarian situation in Syria and the struggle of their people for freedom.